Discover more from Network Capital
Mentorship and career advancement platform trusted by 200,000+ millennials and 7.5 million students. Featured on Harvard Business Review, World Economic Forum and TED. Partner of NITI Aayog (Government of India) and Masters of Scale (Reid Hoffman)
Over 40,000 subscribers
What we learned together this week
Quick recap, recommended masterclasses, key mental models
The COVID-19 induced lockdown hasn't been easy for anyone. The only silver lining among the dark clouds seem to be the exception new books launching around the world. David Rubenstein, the Founder of The Carlyle Group (one of the world's largest and most successful private equity firms) has written a thoughtful almanac "How to Lead" that captures leadership lessons of some of the brightest leaders in business, technology, philanthropy, art and literature. Utkarsh had a chance to meet David recently and learn about the origins of the book, his reading schedule and principles of career pivoting.
David moved from law to government advisory to private equity and found his calling towards the latter half of his 30s. There has been no looking back since then. We think you will enjoy his book and the good news is that it is available in most countries already.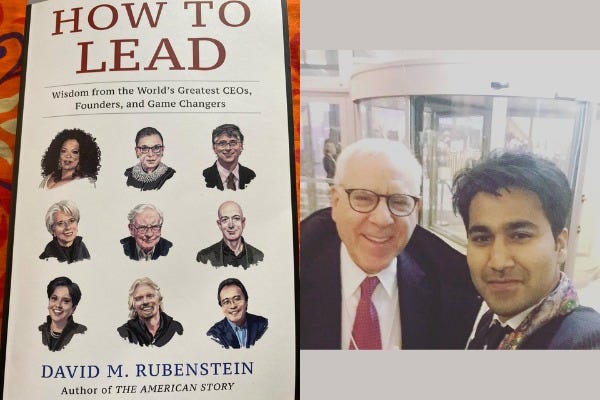 Key newsletters of the week
We also want to be sensitive to your inbox so we will continue to send newsletters on alternate days. Further, we want to add an element of adventure to your newsletter reading experience by doing the following (once a week for each category):
Wednesdays: 5 Smartest Articles of the week

Fridays: Vignettes (Long-form deep-dive career reflection of a massively interesting person)

Sundays: Long-form essay on mental models / career principles / lifestyle design
You can read more about the new structure here. Now let us recap what we learned.
Starting her entrepreneurial journey with the mission to make design accessible, Melanie co-founded Fusion Books in 2007. Instead of tacking the vast design ecosystem all at once with Fusion Books, Melanie with her co-founder Cliff, ventured into the niche high-school yearbook making industry. They created an online tool with which high schools could design their yearbooks using Fusion Books software for free and only pay for the printing of the books. Starting with 15 high schools in Australia by 2011 they were working with over 300 high schools across five countries. They used this period to understand their users, the product and the technical requirements needed to build easy to use online design tools. 
In 2011 after a chance encounter with Silicon Valley investor Bill Tai at a conference she actively started working on the idea of Canva. With a three-month tourist visa Melanie engineered a trip  to the Bay Area to 'meet as many investors as possible'. Early in her visit, Tai introduced her to Lars Rasmussen, the co-founder of Google Maps. Tai told her that if she could hire a tech team that met Rasmussen's standards, he'd invest. After a year of looking for a technical co-founder (and finding Cameron Adams) and a few more months of fundraising in 2012 Canva raised $3M. Read more here.
George Bernard Shaw once said, "The reasonable man adapts himself to the world. The unreasonable one persists in trying to adapt the world to himself. Therefore, all progress depends on the unreasonable man."  In this article, we make a case for  reasoned unreasonableness and  weirdness as our superpowers at work. Let's explore how.
This was a guest post from Anubhav, our community member based in Milan (Italy). He studied at INSEAD and Duke, and worked at McKinsey before venturing out on his own.
Protecting one's worldview isn't necessarily a bad thing and is likely a good adaptation for survival. When you are starting out your life, trying to make sense of the world (i.e., when one's young), you need a compass to navigate the world & guide decision-making. The most pressing need of the moment is to develop a framework that can help you maximize or hoard resources in a world where resources are scarce & competition is high.
However, after spending time with a framework that seems "good enough", one must make sure that it doesn't change too often. Changing a framework too often leads to a high chance of incorporating some bad changes too. And that could inadvertently lead one to a situation that is much worse off than before. Read more here.
We understand that way too many of us get way too many recommendations from way too many people. To cut through the clutter we curated a short list of the 5 best articles of the week. We are not saying that you should not read other stuff but please read at least the ones we suggest. It is curated after extensive research and analysis. You will get the new list tomorrow and hope you got a change to read the top 5 from last week.
Masterclass Recommendation | World Economic Forum C4IR Head

Murat Sönmez started his professional career in 1989 as a Silicon Valley-based software engineer. He is currently the Head of the Forum's Centre for the Fourth Industrial Revolution at the Presidio in San Francisco. In this masterclass, you will learn the following:
The role of luck and taking his first AI course.

The importance of human centred design.

Experiences and reflections on cross-country multicultural collaboration.
Podcast Recommendation: FOMO by Patrick McGinnis
Patrick McGinnis is the creator of the term FOMO and an investor with early investments with unicorns under his belt. In this podcast you will learn
The real story behind the term 'FOMO'.

Negotiating with the 'Fear of Better Opportunity'.

Navigating through global crisis by pivoting and reimagining career paths.

The power of sharing interesting ideas.
Key Programs and Classes for subscribers this week
CEO Fellowship continues with CEO talks on curiosity capital and fundamentals of growth. Last week we had a powerful seminar on valuations for poets and quants. You can watch the recording by writing to varya@networkcapital.co

Masters/MBA Weekly connects

1:1 Office Hours

Happy Hours

Serendipity Thursdays

"The Seductive Illusion of Hard Work" (Amazon #1 best-seller) roadshows
Thank you so very much for all your support. We love building our community and funding innovative ways to serve our community members. Look forward to the week ahead!
Afterthought: "Be yourself; everyone else is already taken." Oscar Wilde
Your INSIDER Team,
To signup for office hours, please use this link. It is free for all Insiders every day - no strings attached.

Insiders have full access to Network Capital TV. Watch a masterclass every day. Start with Nobel Laureate Robert Shiller if you haven't already

If you are new to Insider, please read this and write to Aditi (aditi.nayak@networkcapital.co) for access to Network Capital TV, Insider Specific Groups, Job Board, Book Club, Interest Groups etc