What we learned together this week
Key ideas, insights and mental models
We help interesting people do interesting things but interesting people are often busy so we are constantly trying to figure out ways to make learning easy. Here is a short video that can walk you through what lies ahead this week on Network Capital.
Now let us reflect on the key concepts we learned last week.
Insider Insights on EdTech: Utkarsh wrote an article for the World Economic Forum on the future of edtech. It was featured on the home page of WEF and we are of course delighted by that. You can read it here.

Utkarsh argues that education is unbundled with different companies and communities attempting to capture one part of the puzzle. This unleashes myriad new opportunities and democratizes unexplored vistas for entrepreneurs. It also propels hyper-specialization and intense focus. While in theory it sounds great, in practice it puts the onus of plugging different pieces of the puzzle on the learner (you).

You will have to connect the dots and make sense of contextualizing key lessons. Keep in mind that people draw different inferences and have different goals. The 21st century is meant for those who build their category of one. How will you capitalize on your uniqueness quotient without crafting contrarian insights for yourself and your community? Read more here.

Network Capital Insiders Doing Cool Stuff: Starting this week, we will be highlighting some of the interesting (and fun) things NC Insiders have been up to. We are consistently blown away by the incredible work Insiders do and want to celebrate and support these updates as a community. So here's a glimpse. 

Dealing with Newsletter Burnout: Death by powerpoints is passe. The COVID-19 pandemic has an unleashed an outbreak of newsletters, webinars and Zoom calls. This new "infodemic" is drowning us with the challenge of filtering signal from noise. Information is democratized but wisdom is not. Read more here.

The Rule of 72: When analyzing any business model or investment opportunity, it is relevant to know how long will it take to double your money/investment at a particular rate of growth. There are innumerable mathematically intense ways to calculate it but we want to give you a simple mental model that has been in use since the fifteenth century. Figure out how here.

The Meritocracy Conundrum: Meritocracy is the idea that the most capable person should get the most coveted job, the most prestigious scholarship and the most treasured grant because that person deserves it. According to some commentators Kylie Jenner is a self-made billionaire and everyone who gets to positions of power, makes it happen through hard work, hustle and strong work ethic.

It doesn't take a genius to figure that this statement is incomplete at best. Did Kylie Jenner work hard to achieve what she did? Most likely. Was she self-made? Most likely not. There are structural issues that ensure that talent is equally distributed but opportunities are not. Read more here.

The World's Most Stunning Books and Libraries: A generation growing up without exploring the intimacy of books with a community of readers that flock over a cup of tea to discuss twists and plots is going to be a tad bit lost. It is time to bring back the institution of communal reading. We understand that such infrastructure may not be built overnight and yes, the world has many urgent things to deal with but libraries serve more than just a utilitarian purpose. They shape culture and remind us of who we are, where we come from and where we are going. Read more here.
Masterclass Recommendations:
Shaping meaningful careers in public policy with Harvard Kennedy School student Rohan. You will learn

The landscape of policy careers.

The art of building and maintaining networks and professional relationships.

Experience at Harvard Kennedy School.

Watch it on Network Capital TV.

2. Careers in investing with INSEAD and IFC alum Kartikeya. You will learn

Reflections from the time at IFC and pivoting to operations.

Thinking about Masters and MBA.

Mental models for career planning.

Watch it on Network Capital TV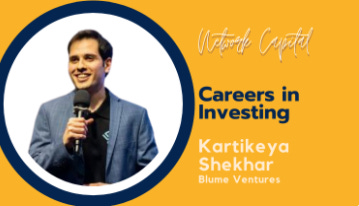 Podcast Recommendation
Understanding principles of career transition with HBS and BCG alum Pranav
Pranav is the Domain Architect and Vice President of the Large Scale Education Programmes at Educational Initiatives.
Pranav's path to Harvard Business School.

Insights on repivoting career after consulting, private equity and an MBA.
Listen to it on Network Capital TV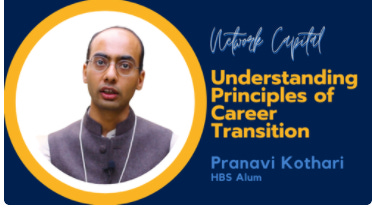 Quote of the Week
If you don't know where you're going, any road will get you there. – Lewis Carroll
Have a mindful week ahead!
Your Insider Team
To signup for office hours, please use this link. It is free for all Insiders every day - no strings attached.

Insiders have full access to Network Capital TV. Watch a masterclass every day. Start with Nobel Laureate Robert Shiller if you haven't already

If you are new to Insider, please read this and write to Aditi (aditi.nayak@networkcapital.co) for access to Network Capital TV, Insider Specific Groups, Job Board, Book Club, Interest Groups etc