Discover more from Network Capital
Mentorship and career advancement platform trusted by 200,000+ millennials and 7.5 million students. Featured on Harvard Business Review, World Economic Forum and TED. Partner of NITI Aayog (Government of India) and Masters of Scale (Reid Hoffman)
Over 40,000 subscribers
What we learned together this week
Quick takeaways and key references
Last week was busy, adventurous, sad and hopeful. Beirut burnt down due to a combination of factors - institutional neglect, geopolitical misadventures, economic disarray, and political unrest. If Coronavirus has taught us anything, it is this - we live in a world where problems are interconnected. Something brewing in Beirut or Wuhan or Washington directly impacts those living in Brisbane, Bangalore and Birmingham. Do take a moment to read more about what happened in Lebanon through a first-person account of one of our insiders, Ghida Ibrahim. We are copying it below.
"[Disclaimer: this is a long and sad post]
Dear friends, thank you so much for checking on me and I apologize if I did not get the chance to reply to your messages yet. your concern and love are the only good things about this devastating day. I am safe. My family and close friends are safe. Our flat in Beirut is damaged, as all of Beirut really, but this does not matter. The damage today is emotional more than anything else.
I grew up in Lebanon and lived through the economic hardships, political instability and some of the last-minute wars that this country went through. Perhaps this perpetual feeling of instability anchored in me the idea of leaving and building another life, a normal life, somewhere else. And I did leave indeed and I did build many other live(s) only to find myself, in the wake of the COVID disruption, coming back home and spending more than just few days in Lebanon for the first time in more than 11 years. Coming back to Lebanon made me realize many things, about myself, and about my very complicated relationship with this country. This country is still my home, despite everything. It is where my parents live and where my niece is growing up. It is where my childhood home and bed lie, and where I can manage to sleep for long nights without being overwhelmed by existential anxiety. It is where the waves of the Mediterranean do not scare me, and where I feel most at peace floating in the sea.... But Lebanon is decaying and exploding, well before the huge explosion that we saw today. The local currency has exponentially lost its value in a matter of months. An upper middle class family that used to earn 2000 dollars few months back now makes less than 400 dollars. Since local economy is largely based on imports, prices exploded and inflation rates reached as high as 300%. To make things worse, people do not have access to their lifetime savings and it is very likely that these savings will never be recovered. Basic services like electricity, water and trash collection, are no longer provided. Those who can afford it are paying for up to 3 alternative sources of power, and are purchasing water to sustain their needs. Those who cannot are merely surviving. Many of the food items people eat expired years back and are still being sold at scale. Disaster preparedness is inexistent. We are not even ready to contain a fire in a forest. Unemployment is at an all-times high, especially among youth, and parents are asking their children to leave and go anywhere. If anything, it is becoming very common to find families where all children are settled abroad and visiting their parents once or twice a year....
Everything in Lebanon today is exploding: unemployment, unaccountability, poverty, unfairness, corruption, mismanagement, disappointments, tears shed at airports and in funerals of closed ones.... And today was just the big visual explosion, the explosion of all what remained of our dreams and hopes of living a decent dignified life in this land that, despite everything, still feels like home...
My thoughts and prayers go to those who lost a loved one today or are still desperately waiting for news about a loved one. My unshakable respect goes to the volunteers who are literally sacrificing their lives to save others (we already lost many of them). My absolute disgust goes to the politicians of this country, all without any exception, to the banks mafiosos and to other powerful people who solely used their power to enhance their wealth and their brand. Finally, my heart goes to anyone living here and still fighting for a change. It takes a lot of strength to live and not loose hope in a place where even breathing cannot be taken for granted (thinking of all the Nitric acid in their air that the explosion generated).
Tonight, we might still be alive but a part of our souls is permanently damaged #beirut"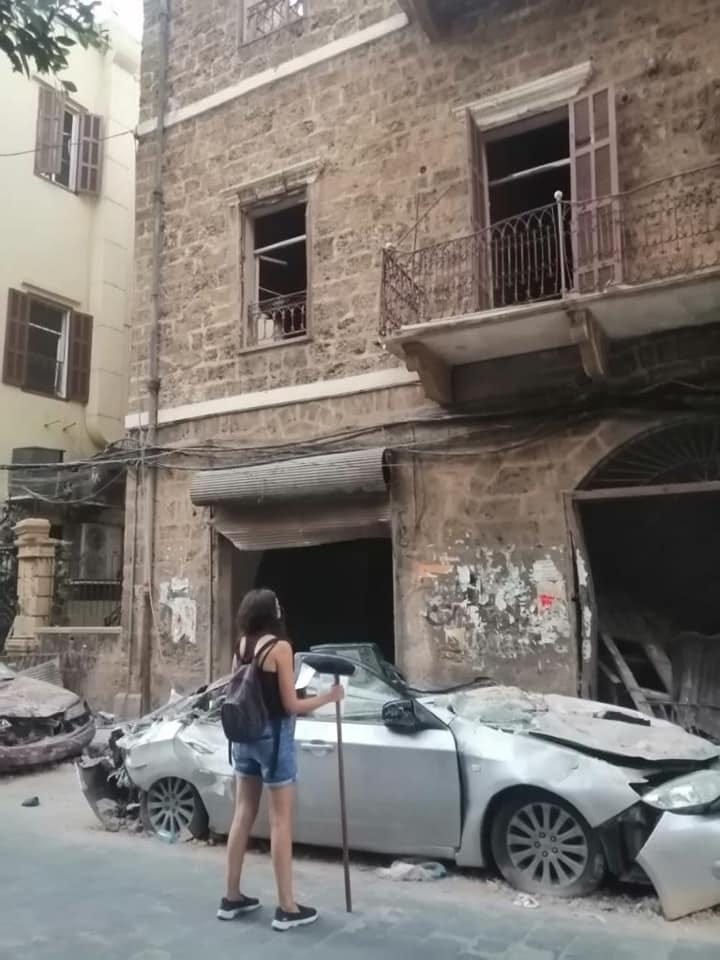 But talking about a problem or critiquing is insufficient. Ghida and her friends went to the streets and actually started cleaning, raising work and doing restoration work. Therein lies an important lesson for all of us. Think big, act small. Do something. No one is going to come and empower you.
Now on to mental models and reflections