The Network Capital Experience + What we Learned Together This Week
Key takeaways, reflections and musings
The Network Capital experience is a mystical combination of content, community and career intelligence propelled by ideas and insights from our members around the world. We try and combine surprise with inevitability every single day. This Monday newsletter is meant to walk you through elements of our learning adventures through the week gone by.
The pandemic strengthened our online bonds but we miss meeting our community members in the real world. We have already started hosting small, physically distant and socially intimate meetups. More to come in the weeks ahead. If you wish to join the subgroup in your city and connect with members in any sector, feel free to subscribe. *Take a look at the pictures of some of out community huddles below.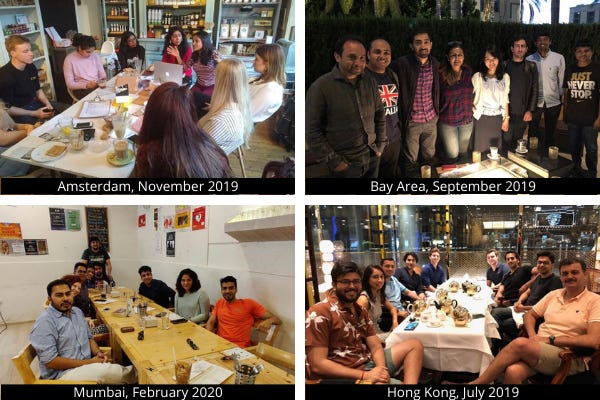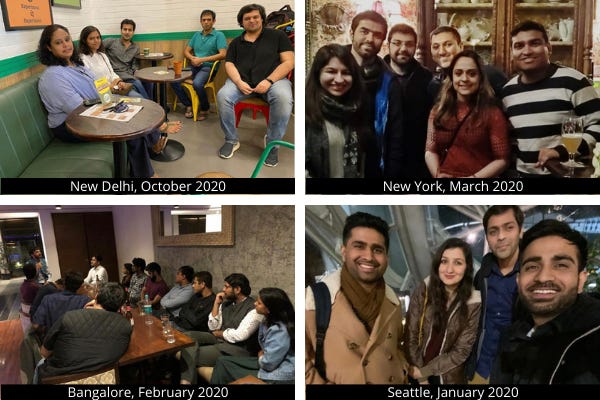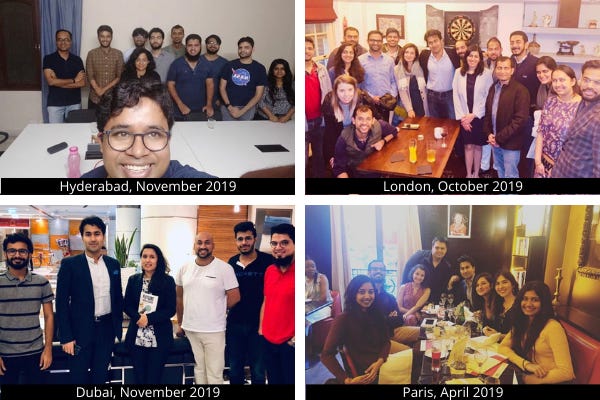 And while this year we have had a ton of online interaction through our bootcamps, the CEO Fellowship, Serendipity Thursdays and happy hours, its not the same as the beautiful and thoughtful experiences our city leaders create and curate for subscribers in over 150 cities across 104 countries.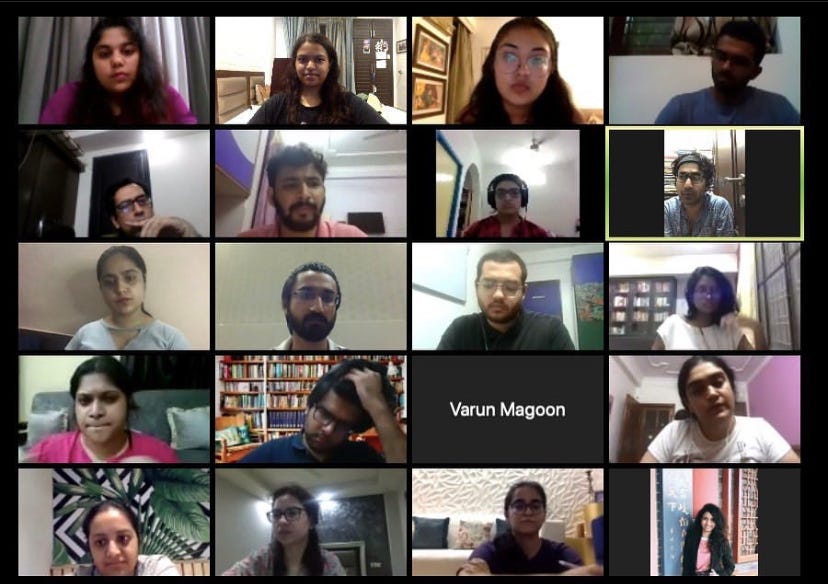 So here's to celebrating life and encounters and analogue and hoping to meet our Network Capital Insider members in person.
Now onto the week that went by
The Network Capital CEO Fellowship: The single biggest update from the week that went by was that we concluded the first cohort of our CEO Fellowship. Spread across 10 weeks, 50+ fellows, 25+ hours of sessions and enumerable learnings; the CEO fellowship has been an absolute pleasure. We'll be sharing more learning and reflections from the fellowship in our upcoming newsletters, in the meantime feel free to sign up for the next cohort.

No Rules Rules - Podcast with INSEAD Professor and Bestselling Author, Erin Meyer

Tune into to learn about -

How a C in Economics and night of gambling helped create a multi-billion dollar company

Imagine getting a 'C' in a paper that goes on to become the idea for a multi-billion business, or gambling $5000 in a game of blackjack to keep your business afloat. In this newsletter, we explored how these pivotal moments impacted the leadership principles of Fred Smith, the CEO of FedEx.

iWork: How the pandemic changed it all

In the aftermath of the pandemic, millions of millennials are likely to be left to fend for themselves. They will have to reach out to their networks to explore new roles and find/create opportunities for themselves. Just like in previous recessions, many iconic companies will be born that will go on to create enormous financial wealth. They will become employers of choice in the coming decades, but can people wait for that to happen?

People will need to learn to monetize their skills and create unconventional economic opportunities for themselves. Call it baptism by fire but it is evident that waiting for the economy to bounce back is not the smartest recruitment strategy in the COVID-19 era.

How much do Uber drivers make? + Smartest articles of the week

$23/hour is by no means small. It is more than 3 times the minimum wage in many American states. But the real question is whether the Cornell research is valid? It is biased? Is it colored? Is it like a big oil company paying a big university to prove oil is great for the environment? These aren't easy questions to explore so let's briefly analyze the challenges of calculating the net income of Uber drivers.

Work, politics and biases; Utkarsh in conversation with Anantika

As a part of the virtual road show for the "Seductive Illusion of Hard Work", this week we spoke to Anantika about her reflections from the book. Do listen or watch this riveting conversation.

---

Thanks for your support, feedback, candor and inspiration. We cherish it.

Afterthought: "Discipline is choosing between what you want now, and what you want most" — Abraham Lincoln

Your INSIDER Team,

To signup for office hours, please use this link. It is free for all Insiders every day - no strings attached.

Insiders have full access to Network Capital TV. Watch a masterclass every day. Start with Nobel Laureate Robert Shiller if you haven't already

If you are new to Insider, please read this and write to Aditi (aditi.nayak@networkcapital.co) for access to Network Capital TV, Insider Specific Groups, Job Board, Book Club, Interest Groups etc